Whatever your age or experience level, you can learn to play beautiful music on your clarinet much sooner than you expect



Do you want to produce a beautiful tone on your instrument (instead of the dreaded "squeak")? Is there music that you would love to hear "flowing" out of your instrument?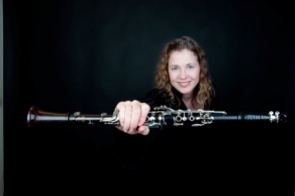 Do you know that the most common problems that people experience while playing clarinet can be easily corrected with the right guidance?

Michelle Anderson can help you play clarinet more easily, and accelerate your progress. Most people will experience a dramatic difference in some aspect of their performing after 3 lessons. She works with a vast repertoire of music, and regularly plays duets with students. Most people learn more easily by playing with more experienced players, and this in an important part of lessons with Michelle. Michelle also is very experienced at helping clarinetists prepare for Royal Conservatory of Music Exams on clarinet. Michelle's Youtube channel has provided teaching value to thousands of clarinetists worldwide (with over 1,000,000 views). Check out some of Michelle's free online video lessons at: www.clarinetmentors.com.

Michelle Anderson has been teaching clarinet lessons to students of all ages for over 30 years. She currently teaches both in her Vancouver home studio, and at St. George's School. Along with professional performing in Vancouver including the Vancouver Opera Orchestra, Vancouver Symphony Orchestra, Lion Gate Sinfonia, the Vancouver Film Orchestra and other local groups, she also coaches several school and adult groups throughout the Lower Mainland. (See professional bio on the Musical Biography page as well as current workshops/performances and some live recordings on the News and Events page.)


If you would like to take regular lessons, or simply a couple of lessons to help you brush up on basic skills, please contact Michelle via email (click on "contact me" below), or phone (604) 734-7999.